Well, it's here. The best and worst holiday of them all. Thanksgiving Day. Food, football and Christmas music should add up to the best holiday ever, except for one small thing.
Your family.
And where there is family, there are thousands of personal questions you don't want to answer. So here are the top six ways to avoid those tricky interrogations.
1. BE HONEST
Your grandma is inevitably going to ask the dreaded question of "have you found a boyfriend yet?" Just tell her the truth, you haven't find your soulmate yet. Or tell her you have as long as she's okay with you marrying a fictional character who goes by the name of Jon Snow.
2. DEFLECT, DEFLECT, DEFLECT
Act like the last boy you tried asking to be your boyfriend, and completely avoid the subject. Ask them a random question about astronauts. That'll confuse them, just like it did you.
3. PRETEND YOU ARE DYING
The moment you are bombarded by scary personal questions, immediately take a huge bite of turkey, act like you are choking and hopefully your uncle will stop the interrogation in order to help "save" your life. This is a guaranteed avoidance method. You won't have to tell anyone about your lack of a job or plans for the future.
4. DRINK UP & SPILL THE BEANS
Take a long sip from your Thanksgiving wine glass and just tell the truth. I am sure your entire extended family will love to know that you spend 6 out of 7 days binge-watching Netflix, crying or watching videos of puppies running. And don't forget to mention you have stopped eating cookies for breakfast so you really feel like you are really making progress as an adult.
5. BE LORELAI GILMORE
And say hockey puck, rattlesnake, monkey, monkey, underpants.  Everyone loves a good tangent, and it gives you plenty of time to formulate the perfect answer to your dad asking how school is going. Or he'll get so annoyed by you shouting random words in the middle of dinner that'll he'll forget what he even asked you.
6. TAKE A HINT FROM THE MASTER HIMSELF
When in doubt, moonwalk it out like Nick Miller. I promise it'll stop your aunt from asking you about your after-graduation job search.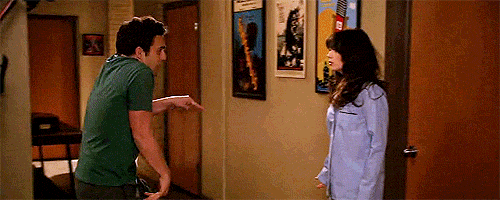 6 Ways to A Those Awkward Thanksgiving Day Questions